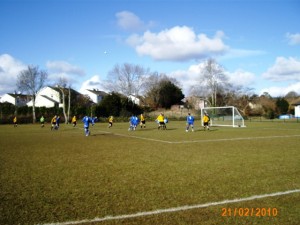 FAI Junior Cup Last 32
Killarney Athletic 1 College Corinthians 0
The sun came out by the banks of the Flesk at Killarney Athletic Park on Sunday afternoon and it shone from start to finish on a home side which progressed to the last 16 of the FAI Junior Cup.

Athletic started well with Lucas Polak and Rory O'Sullivan looking dangerous and it took a mere five minutes for them to take the lead. Winger Polak claimed the winner when he broke for a second time in quick succession to send the ball to the back of the net with a little help from the in-rushing Edward O'Sullivan.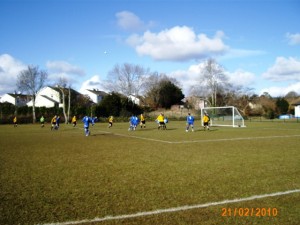 Predictably, Corinthians came back into it and were on top after ten minutes but with Timmy O'Sullivan and particularly, Michael Moloney, defending well, they could see no way through. Quarter of an hour in and Athletic had claims for a penalty waved away by the referee but this was the product of good work on the break by Polak and Brian O'Reilly. Kyle Meehan looked comfortable on the ball for Corinthians and Ricky O'Sullivan saw plenty of ball in the middle of the park but the Athletic back four – completed by Galen Carroll and Mark Griffin – were not feeling generous. An injury to Kenneth Clifford saw the entry of Denis Galvin and the half ended with Athletic on the ascendancy again, but despite this momentum the score remained 1-0 to the home side at the break.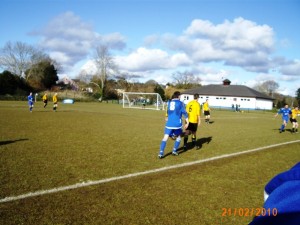 Athletic picked up where they left off early in the second and with Martin Crowley and especially Edward O'Sullivan coming more into the game in midfield, chances were created for the ever-willing Rory O'Sullivan and Denis Galvin. Timmy O'Sullivan was impressive in keeping Corinthians at bay and the more time went on, the more it looked like Athletic would pull off the win. Galvin found himself in front of goal more than once and with Alex O' Sullivan in for brother Rory, Athletic should really have made it an easy last ten minutes when they had Corinthians on the ropes. The cushion of an extra goal seemed inevitable when in the final minutes of the game, Brian O'Reilly ran and crossed to Alex O'Sullivan. He missed it but Shane Bunyan managed a shot and then drove it over the bar from the resulting rebound. Despite the best efforts of Ian Nolan, James Malone and Graham O'Halloran, Corinthians could see no way past the Athletic defence where the two centre halves were a dominant force.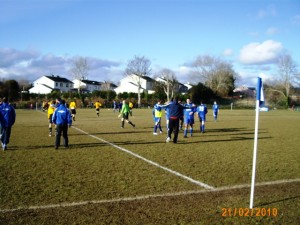 Best for Athletic in a solid team display were the back four who couldn't be breached, wingers O'Reilly, Polak and Bunyan and the eager beavers Rory O'Sullivan and Denis Galvin.